Mark Reilly
Mark Reilly is a qualified horticulturist with over 35 years experience in the industry.
Mark completed his horticultural certificate, specialising in green keeping and has also worked and trained in garden construction; the nursery industry; tree pruning and garden maintenance.
He has an extensive knowledge of the local area and the unique requirements of plants in our coastal environment.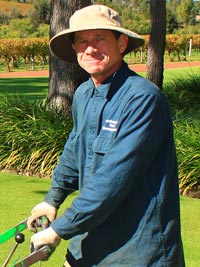 Kate Reilly
Kate Reilly brings a wealth of experience to the team as a keen gardener who started her first vegetable patch as a teenager and has been gardening ever since. She has an eye for successful aesthetic combinations in the garden and is particularly passionate about productive cottage style gardens.
Kate also takes care of the office side of the business and is usually the first point of contact for new clients.